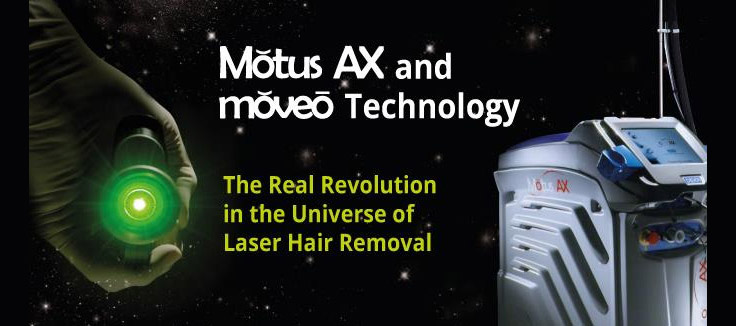 At Rejuvenate Advanced Skin Clinic we take pride in our passion to seek out and provide the most cutting edge, effective technology the world over. Not content at settling for products that provide adequate or mediocre results, we always look for the smartest and the safest technology that deliver the best results to our clients.
We are excited to be the first clinic in Ireland to work with DEKA Motus AX with Moveo technology
About DEKA
DEKA- "The Code of Excellence" has developed an exciting new system which features Moveo technology. The Laser offers the same superior results of "Gold Standard" Alexandrite hair removal without the disadvantages. And…….. It's virtually pain free!
DEKA Moveo is not just a new product, but a revolutionary leap forward in the field of laser hair removal.
DEKA Moveo treats all Photo-types from fair skin to dark skin. Whilst no laser will treat white, red, grey or blonde hair, Moveo utilizes an Alexandrite wavelength that successfully targets and treats even fine, light brown hair.
Treatments are
Easier
Faster
Safer
More effective…… And
Virtually Pain free!
A note on the Alexandrite Laser
Alexandrite has long been considered the Gold Standard for hair removal and is stated so by the FDA. It utilizes the most efficient wavelength to target the pigment (melanin) in hair follicles that sit deep in the skin. The energy delivered by this wavelength heats up and destroys the hair preventing re-growth. However, because Alexandrite targets pigment (melanin), it is traditionally only suitable for the treatment of hair removal on fair skin as darker skin contains far more of the same pigment that can be targeted and damaged by this wavelength.
DEKA is different
DEKA Laser has overcome this issue through the development of Moveo technology. Now all skin types of all colour may be treated safely and effectively. The special sapphire tip of the Moveo Laser handpiece means that heat felt on the surface of the skin is greatly reduced lending to a more pleasant experience.
Energy is delivered gradually into the skin to the target hair allowing it to heat in a safe controlled way without side effect to the surrounding skin tissue
We are so impressed by this revolutionary laser technology that we have moved away from our Traditional Alexandrite and ND Yag laser to work exclusively with DEKA's new generation Alexandrite technology
To find out more about permanent hair reduction with DEKA Motus AX Moveo contact us on 045-409313 or email us info@rejuvenateskinclinic.ie