Candela GentleMAX – The Medical Grade Laser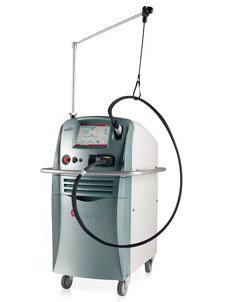 As the world leader in light-based aesthetic technologies, Syneron-Candela continues to set the standard for innovation and performance. So it's no surprise that GentleMAX, our integrated aesthetic system, offers more power and versatility than any other multi-wavelength device. With GentleMAX, you get a single consolidated system that delivers an incredibly diverse range of treatments.
GentleMAX brings together two gold-standard lasers –GentleYAG® and GentleLASE® – to create one unbeatable system. GentleYAG, the fastest and most powerful Nd:YAG 1064 nm laser on the market, effectively treats all skin types, including tanned skin, for permanent hair reduction, leg and facial veins and wrinkles. GentleLASE, our 755 nm laser, is the premier treatment option for unwanted hair, pigmented and vascular lesions, and wrinkles. Individually, these lasers offer unrivalled flexibility and efficacy.
GentleMAX combines the treatment versatility of the GentleLASE and GentleYAG lasers in a single platform that is optimized for all skin types and is the most powerful multi-wavelength, multi-spot laser platform for unlimited flexibility and safety. There are other multiple-wavelength systems on the market, but none come close to offering the speed, efficacy and versatility of GentleMAX. When compared to the competition, it's easy to see the difference. With GentleMAX you have your choice of skin cooling options – from chilled air technology to the integrated and patented Dynamic Cooling Device™ (DCD™) that utilizes bursts of cryogen before and after the laser pulse to offer unparalleled patient comfort.
Intense Pulse Light (IPL) light-based treatments use a less intense, broader spectrum of light than actual lasers. This means a less effective treatment, slower results and more sessions. Candela´s GentleMAX is the only laser-based product that is built specifically to dual-filter the light energy, thereby generating more consistent and quicker results.
Hair Reduction
Wrinkle Reduction
Hemangiomas
Rosacea
Beard Bumps (PFB)
Brown Spots
Facial & Spider Veins
Leg Veins