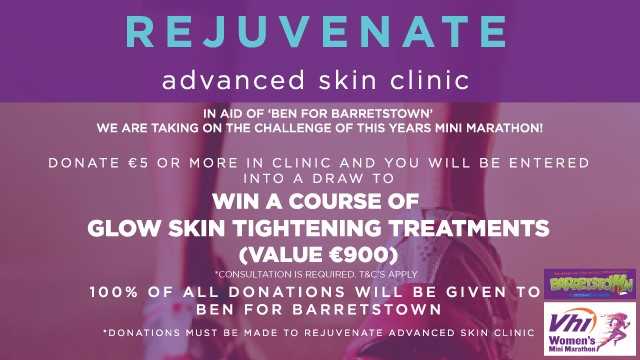 This year at Rejuvenate Advanced Skin Clinic, we decided to do the VHI Women's Mini Marathon for a cause dear to your heart!
We appealed for charity suggestions close to you on Facebook, Twitter and Instagram and popped them all in a bag and 'Ben for Barretstown 2018' was picked! We were so delighted to have such a good cause close to home.
Ben was diagnosed with Leukemia in 2011 at just 12 years of age. He received intensive chemotherapy and treatment in Crumlin hospital for three years, and in 2014 received his junior cert results on the same day as receiving a bone marrow transplant from his amazing seven year old sister Ava, giving him more precious time with his family and friends. Ben brought himself through all of this with strength, positivity and always a smile. He passed away in June 2015.
Barretstown have chosen 'Ben for Barretstown' to lead their team on the day, and Rejuvenate Advanced Skin Clinic is delighted to be a part of the remembrance of Ben, and for all the children and families of Barretstown.
"Barretstown just gives you this confidence.

I don't know how they do it, but that's the magical thing about Barretstown.

It gives you a piece of yourself back – the piece you lose during your illness."

Ben Wallace.
With every €5.00 or more donated in the clinic, you will automatically be entered into a draw to win a course of EndyMed 'GLOW' skin tightening and contouring treatment. This is treatment is valued at €900.00.  100% of all donations will be given to the Barretstown Foundation.
To learn more about this treatment, please see our EndyMed 3 Deep Skin Science treatment page (
click here.)
We would appreciate all your help and support!