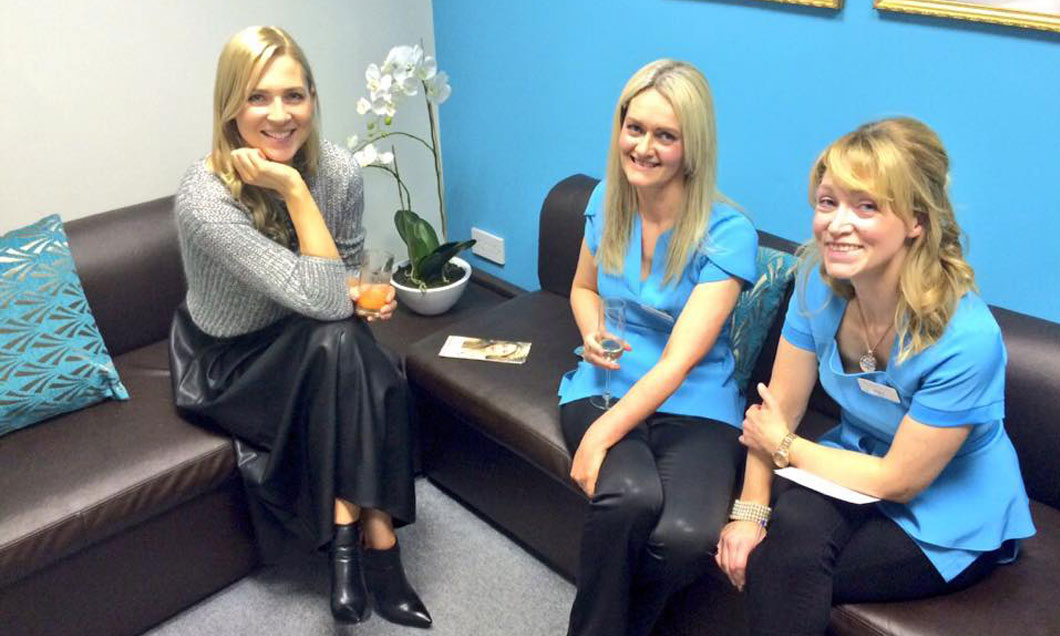 Super-facialists Elaine and Emily Byrne launch Rejuvenate Advanced Skin Clinic – special guests included model Sarah McGovern & TV Nutritionist Elsa Jones
Rejuvenate Advanced Skin Clinic, Naas, Co. Kildare, celebrated its official launch on Wednesday 28th January. Owned and run by Naas sisters Elaine and Emily Byrne, formerly of Elaine Byrne Laser and Skin Clinic, Rejuvenate Advanced Skin Clinic is to the forefront of Ireland's skincare revolution.
Specialising in a range of treatments including Advanced Skin Treatments, Laser & IPL, Diathermie, Teeth whitening, and Naturopathy; the internationally trained Byrne sisters are consistently introducing clinical-exclusive and innovative therapies. Their results-driven therapies have led to their recognition as "SUPER-FACIALISTS" within the industry.
Over 60 invited guests enjoyed skin boosting fresh juices and organic healthy canapés served at the exclusive launch evening. The menu which was created by nearby Siblings café and served by Honeydew Events included oaty seed energy bites, mini quiches made with leek, courgette, thyme & lemon zest, along with mini puff pastry, green pesto & cherry tomato and beetroot meringues.
The evening adopted a "mind your cells" theme, with informative presentations given by Elaine and Emily Byrne on the latest skincare technology and transformative therapies pioneered at the Kildare clinic. Also speaking on the evening was Janette McGovern, a medical expert with 15 years experience in the aesthetic industry, specialising in PRP (Platelet Rich Plasma), Mesotherapy and Sclerotherapy at Rejuvenate. Guest speaker on the evening was Elsa Jones, a nutritionist & TV-Radio broadcaster.
Speaking at the launch, REJUVENATE ADVANCED SKIN CLINIC JOINT-OWNER AND SUPER-FACIALIST, ELAINE BYRNE commented: – "We are delighted to be here, it is nearly 20 years since we started in transformative beauty therapies. We would like to sincerely thank our dedicated team and all our loyal clients for their continued support. We constantly seek out the latest international skincare advancements and make them available to our clients."
EMILY BYRNE, JOINT-OWNER AND SUPER-FACIALIST REJUVENATE ADVANCED SKIN CLINIC said "We've always been passionate about promoting health and well-being from a cellular level upwards and our holistic approach supports that. With Spring around the corner, there is no better time to assess and improve your skincare regime. We very much look forward to welcoming clients over the coming months to try the latest treatments and products at our clinic."
SARAH MCGOVERN, GUEST OF HONOUR on the evening and the new "face" of Rejuvenate Advanced Skin Clinic said: "As a model and busy working mum in what is an image-driven business, I am always on the lookout for the best treatments and the latest therapies. I have been lucky to try a number of clinical-treatments here at Rejuvenate Advanced Skin Clinic and I can honestly say, they are world-class therapists and just 30 minutes from Dublin! I'm already looking forward to my next visit."
Among the 60 guests on the night included well-known Kildare ladies Zoe Weld, Grainne Prendergast, Audrey O'Dwyer, Orla Murtagh and Gillian Walsh as well as Model Sarah McGovern & TV Nutritionist Elsa Jones.
Rejuvenate Advanced Skin Clinic is open Tuesday to Saturday for further details and offers see our www.rejuvenateskinclinic.ie